As humans continuously evolve, technology develops alongside them. Technology offers convenience, helping us simplify our daily lives.
With Yunmai's innovation comes the birth of technology-based sports and fitness tools designed to provide a whole new level of experience when it comes to any workout routines. Yunmai has proved its greatness through the lines that they have been releasing such as smart scales, massage guns, and smart jump ropes.
So what was the World's leading media say about Yunmai Products?
Yunmai Massage Guns
The Wall Street Journal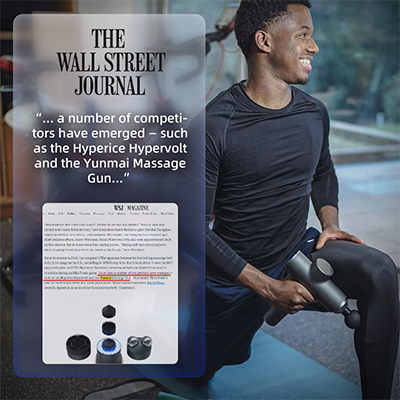 The Wall Street Journal is an international daily newspaper that covers breaking news and current headlines across the globe. They also feature wonderful technologies that can greatly influence the lives of people.
They mentioned Yunmai Massage Guns as "a number of competitors have emerged—such as the Hyperice Hypervolt and the Yunmai Massage Gun"
You can read the full article by visiting their official website link.
Yahoo!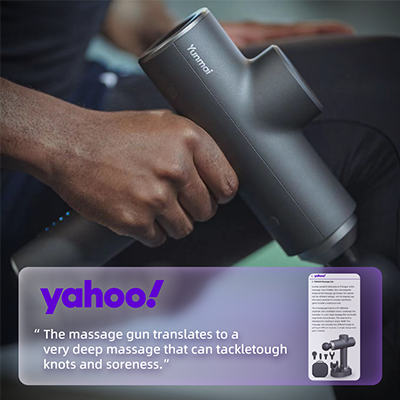 Yahoo! is an American web services provider that is known for providing a web portal, search engine known as Yahoo Search, and other similar services to the people on the internet. In one of their articles, they listed multiple Theragun alternatives. Their article quoted "The massage gun translates to a very deep massage that can tackle tough knots and soreness." Visit this link to read the full article.
Wired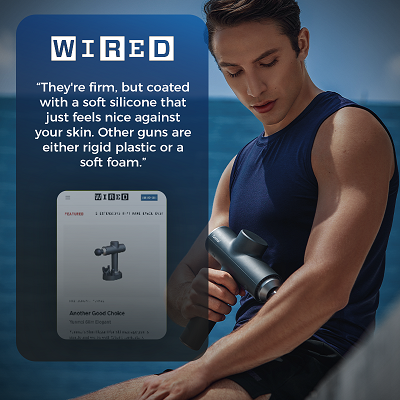 Wired is an American magazine that is focused on emerging technologies and how it affects culture, economy, and politics.
Wired covered Yunmai on one of their editions and quoted "They're firm, but coated with a soft silicone that just feels nice against your skin. Other guns are either rigid plastic or a soft foam." Go to their official website link to read the full article.
Daily Beast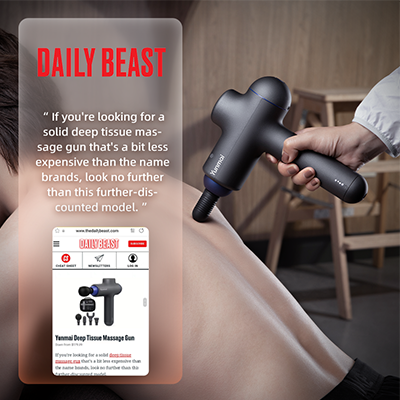 The Daily Beast is a known American news website focused on politics, media, and pop culture. In one of their articles, they covered Yunmai and said "If you're looking for a solid deep tissue massage gun that's a bit less expensive than the name brands, look no further than this further-discounted model. " View the full article on this.
Rolling Stone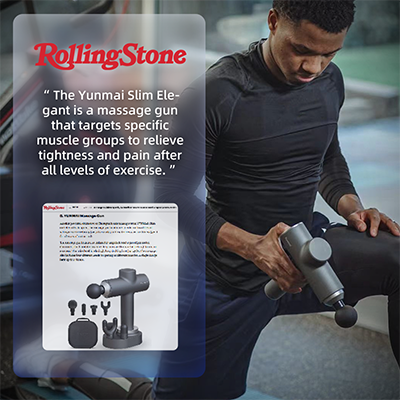 Rolling Stone is a well-known American magazine that focuses on politics, music, and popular culture. Yunmai became one of the subjects in their articles and wrote "Another powerful alternative to Theragun is this massager from YUNMAI." Read the full article on their official link.
Athletics Weekly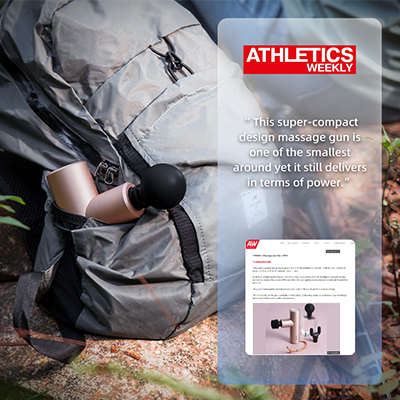 Athletics Weekly is a weekly magazine focused on track and field and road racing. They saw the beauty of Yunmai and covered the brand with a comment "This super-compact design massage gun is one of the smallest around yet it still delivers in terms of power." See the full article on this.
PureWow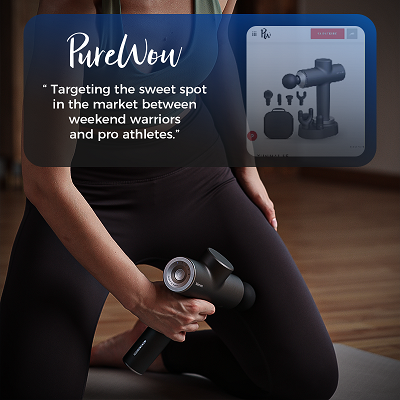 PureWow is an American digital media company that focuses on women's lifestyles. They provided a positive note on Yunmai stating "Targeting the sweet spot in the market between weekend warriors and pro athletes." See the full article on this.
GadgetFlow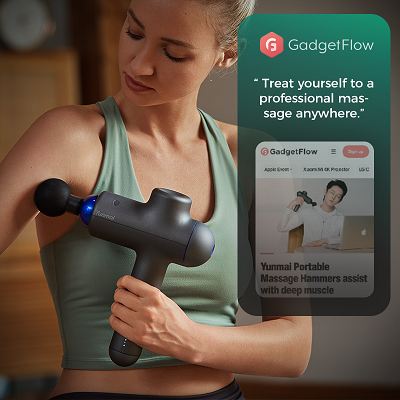 GadgetFlow is a curated e-commerce marketplace in New York City. They featured Yunmai with a note of "Treat yourself to a professional massage anywhere." See the folio on this link.
TRENDHUNTER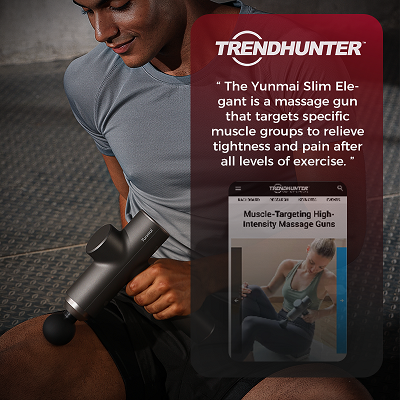 TREND HUNTER is one of the top innovation and trend spotting communities. They featured Yunmai as one of the rising sports tech brands and said "The Yunmai Slim Elegant is a massage gun that targets specific muscle groups to relieve tightness and pain after all levels of exercise." Visit the full article on this.
the gadgeteer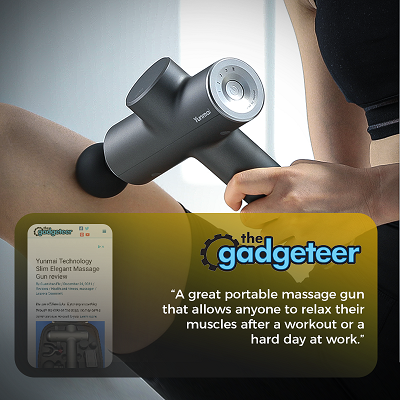 The gadgeteer is a digital media publication that covers the latest news, reviews, and previews of gadgets, toys, and everyday carry gears that make people's lives more convenient. In one of their articles, they featured Yunmai with a quote "A great portable massage gun that allows anyone to relax their muscles after a workout or a hard day at work."
See the full article on this link.
Yunmai Smart Scales
Forbes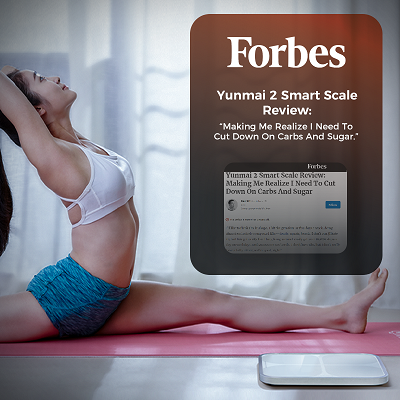 Forbes is a global company that publishes magazines featuring business, investments, technology, leadership, and lifestyle. They published an article about Yunmai Smart Scales with the quote "Yunmai 2 Smart Scale Review: Making Me Realize I Need To Cut Down On Carbs And Sugar." Visit this link.
CNN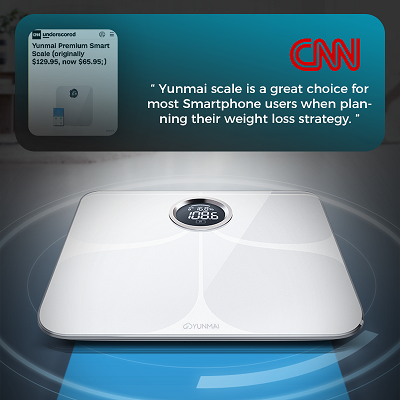 CNN is multinational news that provides scoops about various happenings across the globe. In one of their articles, they wrote that the "Yunmai scale is a great choice for most Smartphone users when planning their weight loss strategy." See the full article on this.
Cnet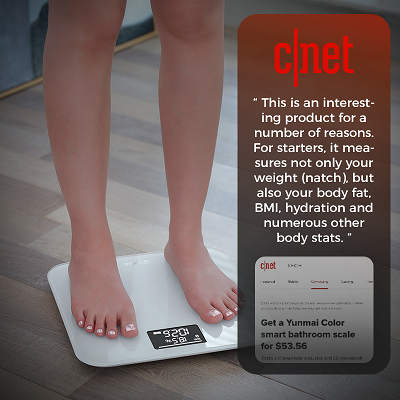 Cnet is an American media website that is focused on reviews, articles, blogs, podcasts, and technology. In one of the reviews, they wrote for Yunmai, they quoted "This is an interesting product for a number of reasons. For starters, it measures not only your weight (natch) but also your body fat, BMI, hydration and numerous other body stats. " Visit the full article on this.
Mashable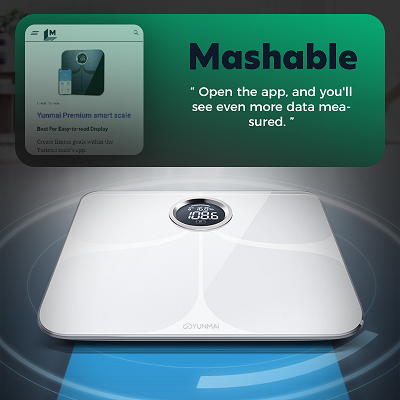 Mashable is a global multi-platform and entertainment-focused on culture, technology, and science. They ranked the best smart scales in the market and mentioned Yunmai with the quote "Open the app, and you'll see even more data measured." Read the full article on the link.
CNBC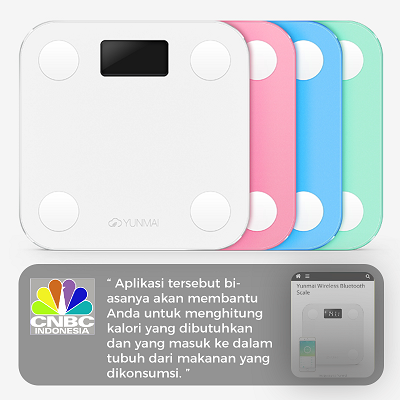 CNBC is a news channel that opt for fast, actionable information across the globe. They wrote Yunmai with a statement of "Aplikasi tersebut biasanya akan membantu Anda untuk menghitung kalori yang dibutuhkan dan yang masuk ke dalam tubuh dari makanan yang dikonsumsi." See the full article on this.
Men'sHealth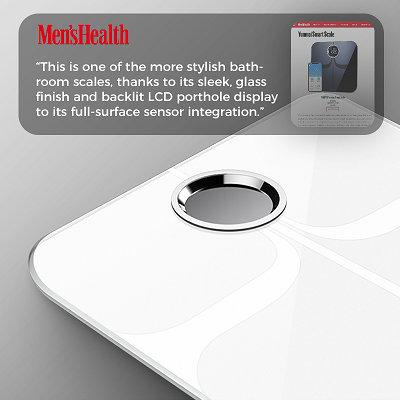 Men's Health is a brand for fitness, health, nutrition, sex, style, grooming, and technology. In one of their articles, they wrote Yunmai with a quote "This is one of the more stylish bathroom scales, thanks to its sleek, glass finish and backlit LCD porthole display to its full-surface sensor integration." Visit the link for the full article.
MEN'S JOURNAL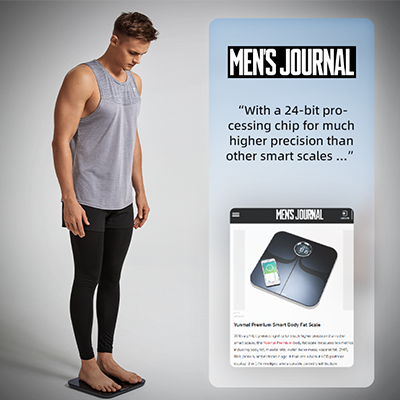 MEN'S JOURNAL is a magazine for men's lifestyle. They are focused on health and fitness, recreation, fashion, and many more. They mentioned that Yunmai is powered "With a 24-bit processing chip for much higher precision than other smart scales ..." See the full article on the link.
Uol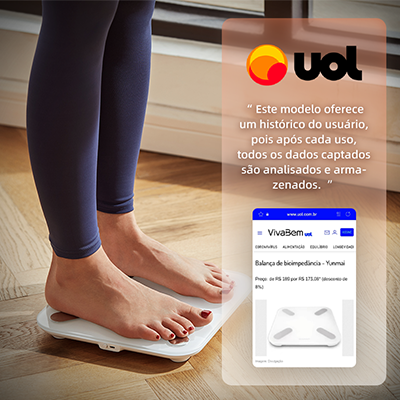 Uol or Universo Online is a Brazilian web content which features products and services. In one of their articles they featured Yunmai with a quote " Este modelo oferece um histórico do usuário, pois após cada uso, todos os dados captados são analisados e armazenados." Visit the full article on this.
androidcentral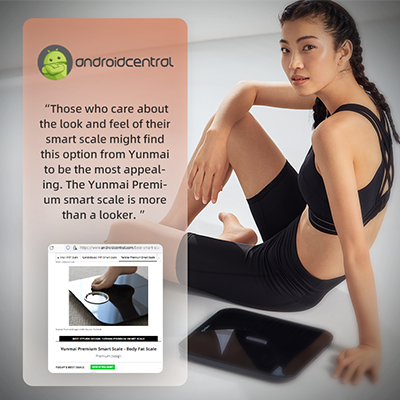 Android Central is part of the leading media group and publisher Future US Inc. Android Central's statement goes "Those who care about the look and feel of their smart scale might find this option from Yunmai to be the most appealing. The Yunmai Premium smart scale is more than a looker."
Visit the full article at the link.
Gadgets & Wearables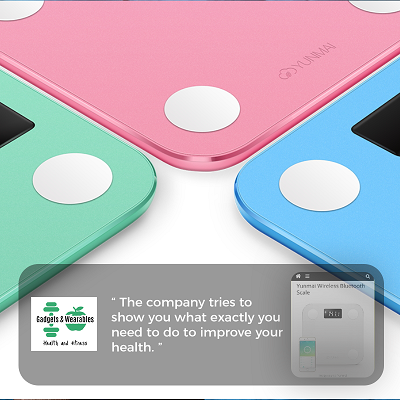 Gadgets & Wearables is a website that helps consumers be knowledgeable about the wearables market and keep them updated on the latest industry news and products. They included Yunmai as one of the best smart scales with the quote "The company tries to show you what exactly you need to do to improve your health." See the full article on this.
Yunmai is one of the rising companies that provides technology-based sports and fitness equipment that will leave you satisfied on your fitness journey. Its main objective is to provide a remarkable experience to the consumers and start their health and fitness journey with the best products that you could ever find in the market.
Yunmai technologies don't only offer convenience, but also articulate information about your health status, which will help you take care of your wellness from their massage guns to jump ropes. Make your workout routines to the next level and start your journey with Yunmai technology!