Jump ropes are known as one of the fun cardio exercises that you can include in your daily workout routine. If you desire to use a jump rope to help you achieve those abs that you've been dreaming of, then this article is for you!
In this article, we will tackle different jump rope techniques that will help you strengthen and build your abdominal muscles. Tag along as we unravel the different jump rope techniques that you can add to your workout for abdominal muscles.
Crisscross
The jump rope crisscross technique is a total body exercise that targets our calves while also targeting the biceps, chest, shoulders, forearms, triceps, hamstrings, glutes, and quads.
Learning proper crisscross is easy with the step-by-step crisscross jump rope instructions, and other instructional materials available on the internet. Crisscross jump rope is perfect for those with an intermediate level of physical fitness and exercise experience.
Here are some tips that you can do when trying out the crisscross technique
Try doing the twists as fast as you can.
Find the appropriate rope length for this technique.
Start slow then slowly turn up your speed.
Double Jumps
Double jumps also known as the Double-Unders boost muscular endurance of forearms, biceps, shoulders, ankle tendons, calves, and hamstrings. It is also one of the most demanding ways to jump rope. Since it requires you to jump high enough to get the ropes under your feet twice.
When trying this technique here are some tips that will be helpful for you.
Master the basic jump.
Avoid excessive arm swings.
Be patient. It will take lots of practice before you perfect this technique.
Jump higher than usual.
Alternate Movements
Alternate movement is a technique where you start by jumping with your booth feet and then changing the movement with an in-place running motion.
You can use the following tips when trying the alternate movement or alternating leg jump rope technique:
Your wrist must be the one initiating the swinging, not your whole arm.
Start slow and try to determine the perfect timing before working your speed up.
One Foot Jumps
The one-foot jump technique focuses on the calves, which requires hip and ankle stability. Since you are jumping on one foot, a simple mistake while doing this technique can lead to injury.
To avoid injuries and damage, try implementing these tips while doing the one-foot jump.
Make sure that most of your movement comes from your wrists.
Don't look down.
Ensure that you are using the appropriate length of rope.
Avoid excessive jumps
High Knees
The high knees technique is somewhat like alternate movements. However, in this technique, you are required to lift your knees high in the air one at a time. High knees target your chest, shoulders, biceps, forearms, quads, and abs. Since doing high knees can be tiring, you should only do it for a couple of seconds then go back to your normal jump.
While performing this technique make sure that:
You raise your knees as high as possible.
Your wrists initiate the swinging of the rope.
You're using the appropriate length of rope for this kind of jump rope technique.
Start slow, once you already find your rhythm, work your speed up.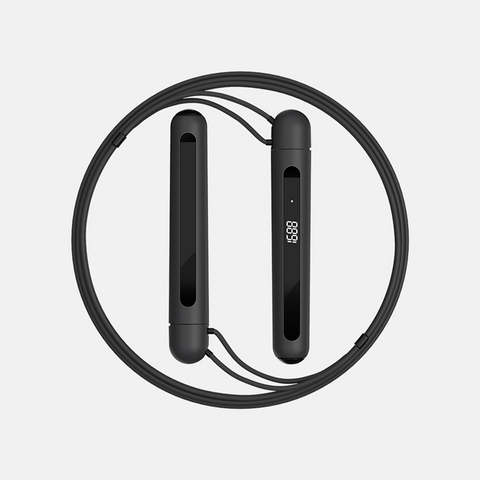 There are different techniques that you can do with a jump rope. These techniques will enable you to spice up your daily workout routine. Using the appropriate rope will make a significant difference in your jumping rope experience. Use Yunmai Jump Rope to level up your jump rope experience. Yunmai Jump Rope enables you to exercise coordination and relieve lumbar and cervical pain. It is also equipped with 3 hall sensors, and a patented ergonomic anti-slip handle allowing you to continuously enjoy your skipping. What are you waiting for? Include jump ropes into your daily workout routines and see the difference they can make.